English below
Wir vom AzureBonn Orga Team, freuen uns sehr, ein besonderes Online-Community-Event für den Herbst anzukündigen. Am 22. Oktober 2020 veranstalten wir von Koblenz aus, der Heimatstadt von Thomas Naunheim, eine Online Community Veranstaltung rund um das Thema Identity mit Schwerpunkt Azure Active Directory.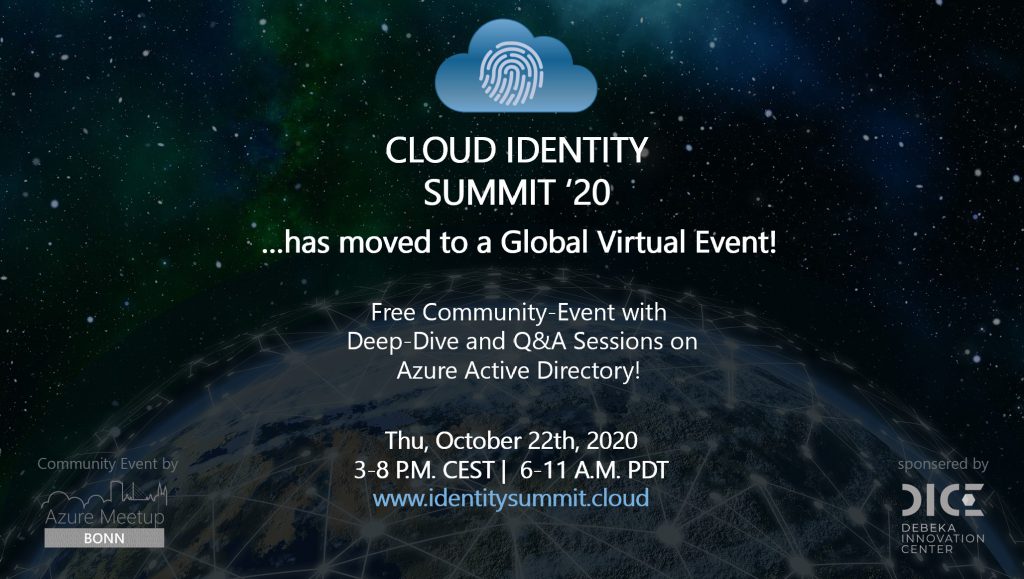 Der virtuelle "Cloud Identity Summit" ist eine kostenfreie Veranstaltung, die die einen starken Fokus auf den Austausch zwischen den Teilnehmern setzen möchte. Dabei würden wir uns freuen, Identity-Experten aus verschiedenen Bereichen und Branchen, wie z.B. Microsoft Partnern, Systemhäusern und Unternehmen mit Interner IT, begrüßen zu dürfen.
Diese Veranstaltung legt den Fokus bewusst auf das Identitätsmanagement, und wir werden auf verschiedene Aspekte wie Identitätsschutz, Verwaltung externer Konten, Passwordless und vieles weitere eingehen. Die Ankündigung der Speaker wird in den nächsten Tagen erfolgen und die Anmeldung für diese kostenlose Community-Veranstaltung wird in einigen Wochen über die Azure Bonn Meetup-Site möglich sein. Folgen Sie uns auf Twitter für die neuesten Ankündigung und zögern Sie nicht, uns zu kontaktieren.
Aufgrund der aktuellen Lage haben wir uns entschieden, diese Veranstaltung rein virtuell zu veranstalten. Sobald es möglich ist, werden wir dieses Format erneut als Präsenzveranstaltung anbieten.
Wir sind weiterhin auf der Suche nach Sponsoren, wenn ihr uns unterstützen möchtet, kommt gern auf uns zu.
English
We, the AzureBonn Orga Team, are very pleased to announce a special online community event for the fall. On 22 October 2020, we will be hosting the virtual Cloud Identity Summit 2020 – an online community event from Koblenz, the hometown of Thomas Naunheim. This event will focus to identity management and we will dive into different aspects like Identity protection, Management of external accounts, passwordless options and many more. The lineup will follow soon and registering for this free community event will be possible in a few weeks over the Azure Bonn Meetup site. Follow us on Twitter for the latest announcement and do not hesitate to contact us.
We are still looking for sponsors, if you want to support us, please contact us.
Due to the current situation, we have decided to hold this event purely virtuell. As soon as it is possible, we will offer this format again as in person event.